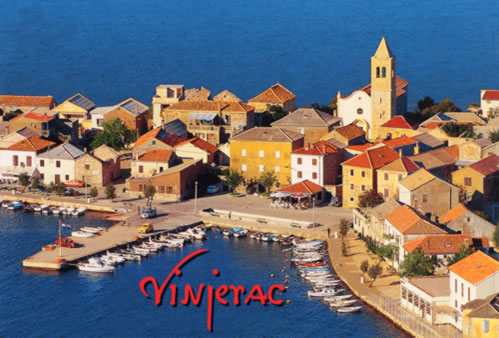 LERGA Apartments
Vinjerac - Hrvatska

Tel 1: +385 51 674-119
Tel 2: +385 23 355-010
Tel 3: +385 98 425-544
On their way to the South of the Adriatic coast and in order to find a peaceful and relaxing place for their holidays, the guests that visit Croatia have discovered – Vinjerac.
Vinjerac is a small fishing place in the suburbs of Zadar that has become an oasis of peace and enjoyment thanks to its position. Vinjerac is situated in the vicinity of several National Parks such as:
Paklenica which is just 5 km from Vinjerac by sea across the Velebit Channel
Kornati – 60 km; Krka – 50 km
Plitvicka jezera – 140 km from Vinjerac.
Not far away from Vinjerac, on the island of Dugi otok, there are also several natural parks such as Velebit and Uvala Telascica. Tourist attractions are without doubt canyon of the River Zrmanja – 15 km and the beautifull fjörd Maslenicko zdrilo – 9 km from Vinjerac.
The surrounding towns Zadar, Nin, Knin and Sibenik are the places that have existed since ancient times and that are rich in historical and artistic treasure, therefore, visitors may acquaint themselves with the croatian culture and tradition.

In the very centre of Vinjerac, not far away from church, there are "Lerga Apartments". "Lerga Apartments" are the most recently redecorated parts of the rural seaside architecture with its recognizable "voltas", "bolotur", "skuras" and "kortil". A broad yard – "kortil" is a very suitable place for relaxation, sunbathing and for preparin food on a mobile barbecue. Stone structure of the "Lerga Apartments" is surrounded by sea by three sides and it is just 10 m from the northern that is 50 metres from its southern and western side.
"Lerga Apartments" consist of 3 separated apartments (separate floors) for 4 people, which are 42m square in area each. Each apartment has got a double room furnished in a traditional manner: beds, wardrobe, dressing table, painting and telephone. The room that is
30 m square in area has got mini-kitchen (with sink, cooker and fridge 230l + 40l for deep freeze), table with 6 chairs, sofa bed and satellite television. Each apartment can have an additional bed if needed. Each apartment has got a bathroom and a toilet that are paved with spanish ceramics and marble.

In Vinjerac there is also a grocery shop, restaurant à la carte, several cafés and there is also a possibility of visiting Velebit Channel by boat. Tourists who come on holiday with their own boats can rent a berth in a safe little port of Vinjerac. Clean sea, beautiful nature and hospitality of the host family will certainly make you wish to stay there a bit longer.